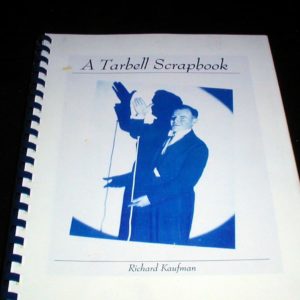 Tarbell scrapbook by Kaufman
As a collector and Historian on Dr. Harlan E. Tarbell. I know how rare and hard to find the wonderful historic info and items contained inside. Here the reader will see items from nearly 100 years ago from rare file of Edwards Monthly ( a magic magazine that ran from 1909-1910 ), items from the original Tarbell System (1927) not avail in the vols on the market. Fantastic articles and writtings of and about Tarbell,delightful copies of the wonderful booklets given out durring Tarbell's teaching lectures his life and work in magic and more. A bounty of fun reading and an interesting look back at some of the magicial offerings and more that Tarbell has left us. Note this book by Kaufman is very limited and only 100 copies were produced. Making it a bit hard to find as the historic info contained inside it's pages. If one is interested in magic and it's history they would enjoy this book very much.
Just a note… I am always looking to add to my historic timeline and display on Tarbell's life and work. Please feel free to contact me at: $mailto([email protected])
Click here for more information.