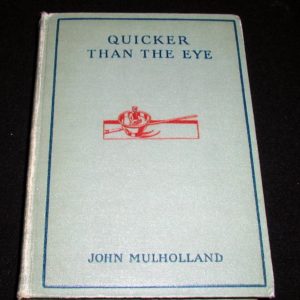 Eye witness tales about Magicians all around the world
Written in 1932 this book by John Mulholland takes you on a virtual tour of many distant lands as he tells tales of magicians from almost every culture and part of the world.
It is quite amazing to think how much Mr. Mulholland travelled with magic so long ago. It has some great stories and anecdotes that are very entertaining reading. It is not a book of tricks, but rather of cultures and people and the types of magic they have performed.
I'm sure 75 years on much of this is no longer quite the same, but it is still a thrill to read about the old days when you can help thinking there was a bit more "art" to our magic. One quote by Jack Gwynne is worth repeating:
"Mr. Gwynne, I have seen your act and I think it is perfect."
"Thank-you," Gwynne replied, "I'm glad you liked it. I feel that it has many flaws, but after all it should run smoothly, for it takes but twelve minutes to do and I have worked twelve years on that act. Allowing a year's rehearsal for every minute's performance it would be astounding if it were not smooth".
Can you imagine a modern magician spending so much time on one act? Maybe this is one of the reasons, that there are so many bad performances out there …
Click here for more information.