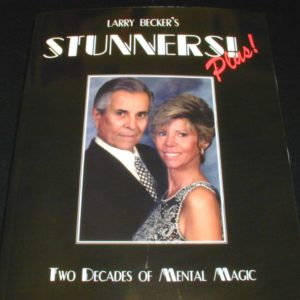 Wow! This is where the true miracles begin!
Larry Becker is an incredible Mentalist. But once you read this book you'll realize he is a lot more than that! One of his biggest hits, Russian Roulette, is explained in detail in this book, and frankly even when you know how this is done you will realise how absolutely brilliant Larry Becker is. I have long been an admirer of $link(http://www.martinsmagic.com/?html=gallery&keywords=becker,his magic), and this book prooves why.
Talk about incredible value. There is so much in here, and you can buy it directly from Larry for an incredible price at his new $link(http://www.stunnersplus.com,StunnersPlus.com) website.
This is such a thick tomb, it will keep you going and going and going. Thank-you Larry for re-releasing this incredible volume, and adding more to boot. If you buy no other book this year, buy this one!
Click here for more information.