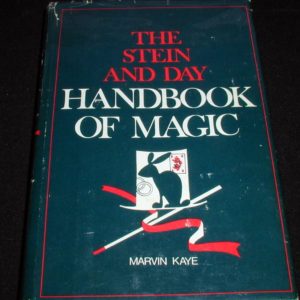 The Perfect Book for the Beginner
$link(1900,The Complete Magician) by Marvin Kaye (or the $link(1886,Stein & Day Handbook of Magic) as it was known in the USA) is a wonderful book for the serious beginner who wants to perform magic as a hobby or as a profession.
What I liked most about this book when I first read it 27 years ago was that it didn't just focus on tricks and sleights. It did provide some great routines in each of the main areas of magic, including a wonderful section on Children's magic which I was performing most of at the time, but it also had chapters on patter, style, perparing for the big Stage show, routining and all the other things that make up a real performance. These other aspects of magic are often overlooked by the beginner.
The book also ends many chapters with a brief description of commercially available effects and gives sources of dealers and magical publications. As a budding young magician these of course inspired me to want to save up my paper round money to buy more magic!
I found this book a wonderful entry into performing magic for real audiences and for many many years used ideas and magic directly from it. Soon I will read it again and feel sure it will still provide me with some useful tips and ideas that I have forgotten.
(Notice: Although the printed word is basically the same in both versions of this book, the Complete Magician is a far superior quality book, with a bigger format, better quality paper and numerous black and white photographs. So if you can, get the Complete Magician instead of the Stein and Day Handbook of Magic.)
Click here for more information.