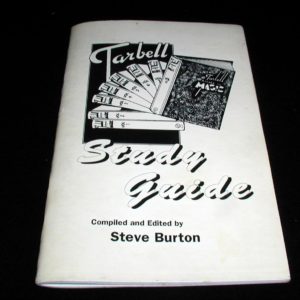 The Tarbell Study Guide By; Burton
With the release of Vol # 8 by d.Robbins in 1991 historian and author Steve Burton puts it all together for magician's and students (of Magic) to study the newer revised editions (originally published by N.L. publishing in the 1940's.) as it was released in the original 1926 Tarbell System. Now we can all go step by step the way Tarbell had ment it to be. If you have the revised tombs vols 1-8 you will need to add this very informative book to your shelfs.
I have been a collector and historian on Dr. Harlan E. Tarbell for nearly 14 years now and I am always looking to buy Tarbell items and add new info to my ongoing historic time-line project on the Maker of Magician's Harlan Tarbell.
I may be contacted at:
$mailto([email protected]).
Please contact me ANY time about Tarbell items and info.
Click here for more information.