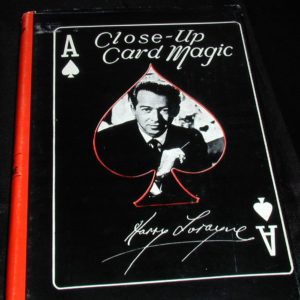 Review for Close-up Card Magic
This book is simply one of the most influential book in my magic learning – and it'll remain in the magic library for many years to come. However, it'll mainly benefit newcomers of card magic. If you dabble at card conjuring then you will want to take a look at this. It contains a lot of beautiful routines that are very easy to do. This is the genuine 'easy to master' card miracles. If you know your basic sleight-of-hand (hindu shuffles, double lift, glide – to give you a rough idea of what level) you'll have no problems learning the routines in here. Even if you don't, it'll only require a little practice before you'll be entertaining your friends and family with a deck of cards. What I love most from this book is some of the routines end with a beautiful layout. There are some routines I relearn once in a while because they are so effective. The downside is the description is very wordy at times and the routines have too many unnecessary actions from an effect standpoint. You'll also have to accept the fact that names to moves like the bluff pass will not be given because Harry Lorayne wrote the book way back in the 1960s. Otherwise, it's a great classic!!!
Click here for more information.