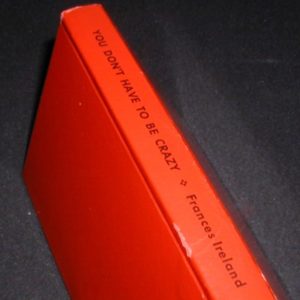 What a wonderfully upbeat Author!
Frances Ireland (Marshall) wrote this wonderful book in 1946. It is the only magic book I have read by a female magician, and it makes for a very refreshing read. She covers almost all areas of magic with advice and anecdotes, but she does so in such an entertaining way that you feel positively gushing with goodwill towards your fellow magicians at the end.
She makes you feel lucky to be in the magic business! And for those who want to make a go of magic as a professional performer or dealer she offers some very sound advice. Here is what she has to say about the benefits of magic:
"If you're sick, magic will help you feel better. If you're poor, you won't buy a lot of useless equipment, but will concentrate on sleight of hand, which some day may make you rich. If you're rich, you don't have to practice sleight of hand, but can become a collector and the envy of the poor. And if you're grouchy, brother, you'll mellow and melt like butter when your audience applauds your first show. You can't stay grouchy in show business. I guess the only kind of man who can't benefit from magic is a corpse."
Frances sadly passed away last year, having spent over seventy years in the magic business as a performer, author, and magic dealer. From reading just this one book she surely sounded like a wonderful lady!
Click here for more information.