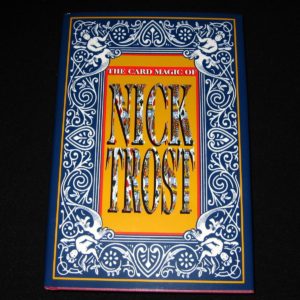 Good material – However, not hard hitting…
I originally purchased this book because it discusses many slieghts used in most card magic. I was also short on budget and couldn't afford the entire "Card College (Volumes 1-5)" by Roberto Giobbi at the time of purchase.
The routines contained within "The Card Magic of Nick Trost" are great for the historical card magician. There are lots of references to Dai Vernon and other past greats. Many of the routines are older and have been reworked by Trost to take on a contemporary flair at the time of publishing. However, due to the fact that most of the routines are fairly old they are somewhat lengthy and cumbersome in contrast with today's fast paced, hard hitting street magic as seen by David Blaine or T.H.E.M.
If you're looking for a nice collection of older, less common routines, this is a great book. I have adapted many of the routines for my own personal tastes. I find many of the routines contained herein work great with an older crowd, especially when you are in a sit-down, close-up environment where their attention is all yours.
Click here for more information.