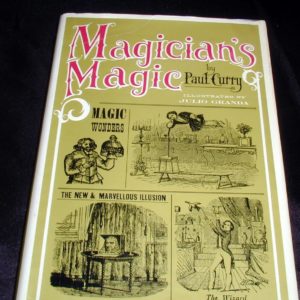 More than just Out of This World!
I read this book initially over 25 years ago, and remembered to this day the story that Mr. Curry relates about the time Winston Churchill was late for a War Cabinet meeting because he was busy watching a magician perform "Out of This World". But this book has so much more than Curry's most famous card trick, which is does indeed explain.
I guess it was aimed at the layman or beginner in magic, but as a performer and collector of magic for over 30 years I still found it a very interesting and rewarding read. He has chapters on many aspects of our art relating all the way back to the Cups and Balls. He covers stage illusions, close-up, escapes, seances, mentalism, and more.
One of the things I really like about this book is that Mr Curry will detail some historical effect or principle and then describe a more up to date and easy to do version of the effect or principle that can be perfomed. Most of the magic in the book is possible to perform without complex sleight of hand or specialised props.
It is a mix of history, showmanship and magical effects, by one of the true greats in the art of magic. I for one believe this should be on every beginners and advanced magic list!
Click here for more information.