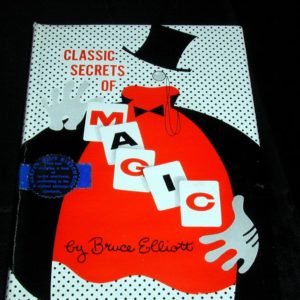 If you could choose just one book on magic …
… I believe this would be a very worthy contender. Bruce Elliott's Classic Secrets of Magic is a small book by modern standards: it has only twelve fairly short chapters, with each chapter focusing on a single basic effect and some variations. However, if you were to thoroughly study and learn the magic and routines contained within these chapters and nothing more, ever, you would have enough material to last a lifetime of magical performances.
Very few props are required, the sleights are straight forward, and the magic is beautiful.
In my magical youth I used to perform three card routines from Chapter 1 (the Spectator's Card is Produced) with the highlight being the Card on the Ceiling; the rice bowls from Chapter 3 (Water, Water, Everywhere!); two paddle routines from Chapter 4 (The Very Peripatetic Paddle); the four ace routine from Chapter 5 (Those Four Aces!); the Egg Bag from Chapter 7 (The Egg Bag, Well Done); two matrix type effects from Chapter 8 (The Two Covers, and the Four Objects …); some simple billiard ball moves from Chapter 9 (Billiards, Magic Style); and the Ambitious Card from Chapter 11 (The Ambitous Card!). I also dreamed of performing effects with Razors, Money and the Cups and Balls from the other remaining chapters.
If you bought this book today and spent one month on each chapter and spent say $100 on props you really could be in the top 1% of magicians in the world after just twelve months. Of this I have absolutely no doubt – provided you were committed to the task, and focused just solely on each chapter of this book.
Of course if everyone did this a lot of magic dealers would go out of business. And you wouldn't have the excitement of trying out 100's of different tricks, gimmicks, gadgets, fine wooden and brass collector's pieces in a vain attempt to find the ultimate effects. This book contains them all, but where is the fun in that? One book, hardly any props to buy and just reading and practicing the same routines for a year? That doesn't sound very magical does it.
Maybe the true secret of magic is that buying magic props from dealers won't make you a good magician, knowing 100's of tricks won't make you a good magician, but learning just twelve effects really well will.
Like so many magicians before me I have fallen into the trap of thinking more props will allow me to create routines for all occaisions. In reality of course, just twelve effects are needed. I know it's fun collecting magic. I have been doing it for over thirty years. But in fact if I just had the balls to stick with the Classic Secrets of Magic, I would be more rewarded, save a fortune, and give back a lot more to the art.
Well it's something to think about at least as we enter the new year!
Click here for more information.