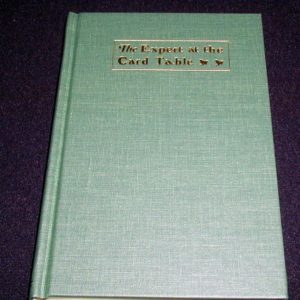 A classic piece of magic history for just $52.
This 2002 Facsimile version of Expert at the Card Table by the, still mysterious, S.W. Erdnase is an incredibly faithful reproduction of the original book. It was published in 1902 and has had a profound impact on card magic ever since (after some prodding from ($link(2151,Dai Vernon)). With the exception of using better quality archival-grade materials and a modern binding technique it is as close to the original as possible – the anonymous publishers even found what is to believed to be the same cloth.
This seminal work on card and gambling moves is a must have for all serious card workers, and now it is available as it was first delivered by Erdnase over 100 years ago. This book is small enough and cheap enough to be carried around with you wherever you go. Unlike the original which can fetch $2000 and is likely to fall apart in your hands.
Of course you might find reading something like $link(1682,The Annotated Erdnase) easier going and more practical today. So get both.
There are only 750 of this 2002 version so I suggest you $link(http://www.canick.com/erdnase.html target=_blank,order one now) – it is a truly amazing how authentic this book looks and how much you will gain from reading it in its original form. Thanks to $link(http://www.canick.com target=_blank,Michael Canick) for distributing this amazing book.
Click here for more information.