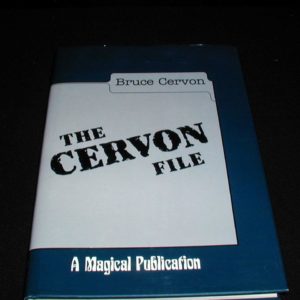 Great Book!
I was quite surprised to read the previous review, it is obvious that this person knows very little about magic or didn't actually read this book. I have been lucky enough to have seen Mr. Cervon perform at the Magic Castle and he is truly one of the best. I have also seen him fry magicians and layman alike with some of the tricks in this book. There are nearly 70 items and if you only got the "Devil's Elevator" you would have gotten your moneys worth. It is a very easy and an extremely commercial trick. Looking at the contents I see many items that I use but will only mention a few of what I think are "classic" tricks. "Perfect Speller" (a killer for magicians and layman but be sure to use the option to tell the spectator if he lied or told the truth), "Aerodynamic Aces" (the original invisible palm ace routine, a great trick no matter how you cut it) and try his "Open Prediction" I saw him do this on TV once and thought it was a stooge. It's that good.
In short this is book that any magician should not be without, I own all the books with his name attached as I find them to be FULL of top quality practical professional magic.
Click here for more information.