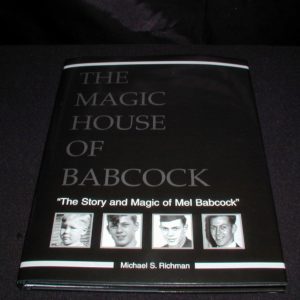 A well honored craftsman
For those who know Mel Babcock and his work, this is an excellent collection of stories, tidbits, descriptions, and pictures of his life and his workmanship. Mel builds some great items and his prices makes these pieces a real steal. His Nested Boxes and Instant Transposition, all handcrafted in exotic woods, are truly exceptional items and speak well of his skills.
The book is well written and adorned with black and white photos, but the color images of his magic towards the end of the book is a real treat. I liked the chapter detailing Mel's steps in making a die box and the one describing the various exotic woods used in his apparatus. This is definitely a fact filled book on a wonderful man and his contribution to magic. Most highly recommended!! Only 500 copies were printed.
Click here for more information.