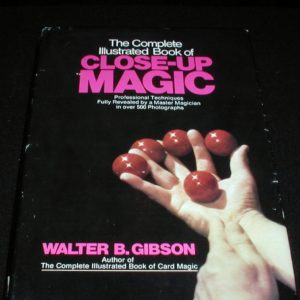 One of the greatest close-up magic texts ever!
As one of the premiere authors on magic and magicians, Walter Gibson performed an invaluable service for the magic community by compiling this tome dedicated to sleight of hand and entertainment. This is a "must-have" book for those seriously invovled in the art and it will lead you expertly through the most useful techniques of close-up manipulation of cards, coins, balls, thimbles, etc. He has even included a section on Mental Magic as a form of close-up.
Gibson's skill at leading one through clearly defined moves is augmented by critically angled photographs of the author's hands in action. Included with all this are the tips and secrets to overcoming some of the serious difficulties entertainers often experiene when performing crucial sleights.
Though out of print for some time now, copies can still be found in a variety of book dealer websites. I have had a copy for 28 years and still use it to learn and review from. This will keep you busy for a long time.
Along with Bobo's masterpiece on coins, Ganson's manipulation series, and Garcia's extensive writings, Gibson's work will always rank among the most important teaching tools in Magic.
Click here for more information.