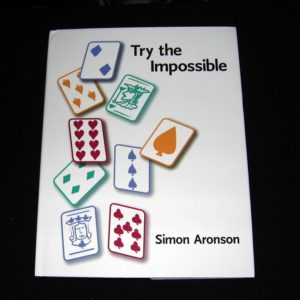 Achieve the Impossible
Aronson outdoes himself here. He has already written some of the best card magic books ever written, including what is likely the most popular memorized stack. But this has to be his best book yet.
Consider the first trick in the book. Work through the clear, thorough description of the method. You will fool even yourself! The UnDo Influence is a revolutionary principle that is counter-intuitive, so it produces a lovely effect however you use it.
The middle section of the book has some wonderful 'miscellaneous' material. Then there is a section of wonderful material utilizing the Aronson Stack. But get this: You don't need to memorize the stack! Not for ANY of the wonderful routines.
The routines are deceptively easy. So easy that many magicians will dismiss the material as 'self working' but don't be one of them! Several sleights are suggested and explained, but this is not sleight heavy material. The emphasis is on the impact of the effect. So if you are a beginner, wondering how to break into the intermediate level, this is a perfect place to start. Create startling, original effects without difficult sleights.
Aronson is widely respected among the top magicians, but interestingly his material is not as often performed as it should be. After working through the routines in Try the Impossible you will agree. But then you won't tell anyone about the book because you will want to keep these golden secrets for yourself.
Click here for more information.